Osteopathy
What is Osteopathy?
Osteopathy is a hands-on treatment which aims to improve the functioning of the musculo-skeletal system as far as is possible. Osteopathy is a holistic approach which looks at the mechanical functioning of the whole body and how the various parts inter-relate.
Osteopaths look at how structure and function are mutually inter-dependent within the body. Compromised structure e.g. tissue damage or scarring affects the function but also poor function can lead to structural change over time. Osteopaths aim to help the body to adapt as well as possible to any structural problems so as to improve and maintain the function.
Osteopaths believe that the human body, as well as being self-regulating, is also self-healing given the right conditions. A tissue is only as good as its blood and nerve supply. It also requires good drainage.
Training and Regulation
Osteopaths study for four or five years and obtain an undergraduate degree or higher on qualifying. Students study anatomy, physiology, biochemistry, pathology, the biomechanics of the body, the interpretation of clinical tests and imaging, psychology, sociology and more. They also have at least 1,000 hours of clinical practice within their training. Students qualifying from The British School of Osteopathy now receive an MSc and there are several other British institutions with degree courses in osteopathy that are recognised by the General Osteopathic Council.
The British Medical Association now recognises osteopathy as a discipline in its own right. Osteopathy is available on the NHS in some areas and is also covered by many medical insurance companies.
Since the Osteopaths Act of 1993, anyone using the title of Osteopath has been required by law to be registered with the General Osteopathic Council. Registration is dependent upon the osteopath having Professional Indemnity Insurance- another legal requirement.

To book an appointment or for more information please call 0151 648 6870 or email info@wirral-osteopaths.com
Why Osteopathy?
Osteopathy is a manual therapy for mechanical musculo-skeletal problems. In other words, it involves the Practitioner working with their hands to help mechanical dysfunctions of muscles, joints and ligaments. Osteopaths don't just treat backs, as is commonly thought, they treat any joint, plus the associated muscles and ligaments. It is also often thought that osteopathy is too strong a treatment for the elderly or frail, but osteopathy can also be very gentle and the treatment specific to the individual patient.
Osteopathy is suitable for all ages
Many people associate osteopathy with the joint manipulation that produces a clicking noise. This is a very useful technique for improving joint mobility. It is very helpful for some patients, but it is not suitable for everyone, and it is just one treatment method of many. Osteopaths are taught a wide range of treatment methods and these can be adjusted and applied according to the specific requirements of each patient.
To book an appointment or for more information please call 0151 648 6870 or email info@wirral-osteopaths.com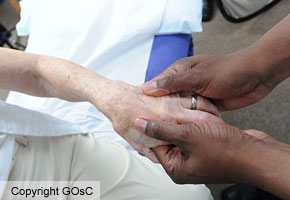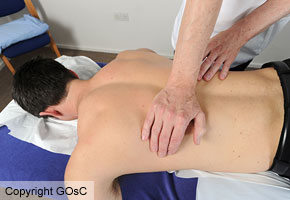 Contact Us
We welcome e mail enquiries but we regret that we are not able to make appointments via the internet, only over the phone, so please include your phone number in any e mails.
How to Find Us
Thingwall Osteopathy, 1A Penrhyn Avenue, Thingwall, Wirral, Merseyside CH61
By Bus: The 472 Liverpool to Heswall bus stops nearby on Pensby Road